MA.19.JAN.2016_19H30_SALLE DEL CASTILLO, VEVEY
CECILIA STRING QUARTET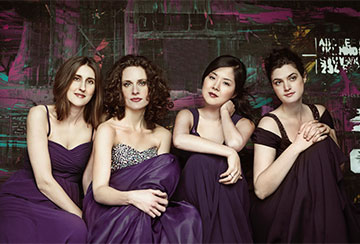 CECILIA STRING QUARTET
Taking their name from St. Cecilia, the patron saint of music, the Cecilia String Quartet was formed in Toronto in October 2004. They currently reside in Toronto where they are Ensemble-in-Residence at the University of Toronto's Faculty of Music.
Hailed for their "powerful" (Chicago Sun-Times) and "dauntingly perfect" (Berliner Zeitung) performances, the CSQ perform for leading presenters in North America and Europe. Past engagements include performances at the Amsterdam Concertgebouw, Berlin Konzerthaus, Northwestern University in Illinois, Buffalo Chamber Music Society, and London's Wigmore Hall. Their live concert recordings have been broadcast on more than a dozen international public radio networks, including Australia (ABC Classical FM), Canada (CBC/SRC), the United States (WQXR), England (BBC Radio 3), and Germany (DeutschlandRadio). Prize-winners at several international competitions, including Osaka (2008) and Bordeaux (2010), they were awarded First Prize at the 2010 Banff International String Quartet Competition (BISQC), where they also won the prize for the best performance of the commissioned work.
CEDRIC PESCIA,
Violin, Piano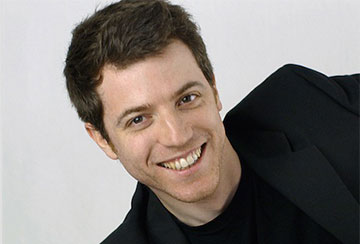 CEDRIC PESCIA
Cédric Pescia, in Lausanne geboren, mit schweizer und französischer Abstammung, studierte bei Christian Favre (Konservatorium in Lausanne), bei Dominique Merlet (Konservatorium in Genf) und an der Universität der Künste Berlin in der Klasse von Klaus Hellwig.
Davon abgesehen erhielt der junge Pianist Impulse von Pierre-Laurent Aimard, Henri Barda, Daniel Barenboim, Dietrich Fischer-Dieskau, Irwin Gage, Ivan Klánský, Christian Zacharias, Ilan Gronich und vom Alban Berg Quartett. Von 2003 bis 2006 setzte er seine Ausbildung bei der "International Piano Foundation" am Comersee (Italien) als Schüler von Dimitri Bashkirov, Leon Fleisher, William Grant Naboré, Andreas Staier und Fou T´song fort.
Mendelssohn
Quatuor à cordes op. 44 n° 2
Lizée
Isabella Blow at Somerset House
Bach
Extraits du « Clavier Bien Tempéré ». 1er Livre
Chostakovitch
Quintette pour piano et cordes op. 57
Présentation publique du programme du concert dans la Salle del Castillo, le soir même à 19h00
Cocktail d'après concert
Vente des billets:
Le Reflet – Théâtre de Vevey,
L@billetterie, 021 925 94 94